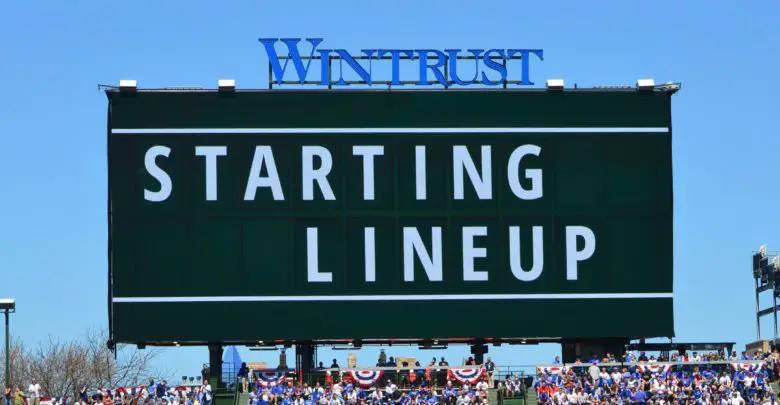 Chicago Cubs Lineup (4/12/23): Swanson Gets Rest, Madrigal at 2B, Stroman Starting for Sweep
The Cubs were down 7-0 just two innings into last night's game against the Mariners and it looked as though they'd have to save thoughts of a series win for today. But shortly after Jed Hoyer promised Boog Sciambi a comeback for his birthday, while also admitting they didn't have the firepower to slug their way back, the Cubs did exactly that.
Both thats, actually, as they came back largely on the strength of homers from Trey Mancini and Nelson Velázquez. Hoyer wasn't entirely incorrect since those dongs and a pair of doubles were the only four of the Cubs' 18 total hits to go for extra bases. Singles pushed home six of their runs, which is interesting because that's right at their scoring average for the season so far.
It was the wildest Cubs/Mariners game since Brian Matusz made the final start of his MLB career, though this one ended with a little less drama. At the risk of getting everyone's undies in a bunch at the mere suggestion of a comparison, this year's team does have some of that same 2015-16 flair for hanging around and finding ways to come back. Now they have a chance to sweep the M's with a win Wednesday afternoon.
We're getting our first new-look top of the order in this one because Dansby Swanson is getting a day off after removing himself early from last night's wild affair. The Cubs said at the time that he was experiencing tightness in his left side, but it was really just exhaustion from having been up since very early in the morning. His wife, USWMNT's leading scorer Mallory Swanson, underwent successful surgery to repair a torn patella tendon suffered in a recent friendly against Ireland.
After going 4-for-4 in the game, the shortstop took the field and made one warmup throw before throwing in the towel. The Cubs are off tomorrow before heading to LA to face the Dodgers, so let's hope Swanson is plenty rested and that there's nothing more significant holding him back by then. Nico Hoerner slides over to short in his stead and remains in the leadoff spot, followed by Nick Madrigal at second base and Ian Happ in left.
Cody Bellinger has been coming around of late and he'll clean up in center, then it's Mancini at DH, Eric Hosmer at first, and Patrick Wisdom at third. Miles Mastrobuoni is in right since the Cubs apparently don't have another option who went 3-for-4 with a homer, double, walk, and four RBI. Maybe Ben Zobrist can get on the horn with Rossy (not Rossi) and suggest putting Velázquez in there. Tucker Barnhart gets the start behind the dish and he'll bat ninth.
As we'll cover in a bit, today's matchup may not necessarily favor a lefty-heavy lineup based on how things shake out.
Marcus Stroman has been stellar through two starts so far, pitching six shutout innings in each and striking out 14 against just five hits. The only bugaboo is that he's walked six batters, but he's gotten away with it by inducing grounders at a 68% clip. All of his pitches have produced positive value to this point, with the slider and sinker leading the way.
This sounds really odd to say, but I almost wonder whether the warmer weather will hamper him a little after his first two outings were a little cooler. That's more about batters getting more comfortable than Stroman somehow being negatively impacted by the higher temps, and maybe it's just my natural paranoia.
The Mariners will counter with 25-year-old righty Logan Gilbert, the No. 14 overall pick in the 2018 draft out of Stetson. I wonder if that gives him any unique insight about the Cubs' celebratory hat. As an aside, I actually have two of my Grandpap's Stetson fedoras from back in the day. Both are more than twice as old as Gilbert, who was born just before I graduated high school.
In any case, the young starter has looked pretty good through two starts and could continue to improve as he settles in. His fastball makes up over half of his pitches and it's down about two ticks from the 96 mph average he posted last season, but he's located it well to set up his secondaries. The slider and curve haven't been very effective to this point, which is good for the Cubs because they make up another 40% of Gilbert's repertoire.
The splitter, however, has been excellent as a put-away pitch against left-handed batters even though it's not getting much usage. That's the pitch to really worry about because he just added it this past offseason to replace the changeup that had been getting mixed results.
"I think it's going to be a phenomenal pitch as long as it's located well," Mariners catcher Tom Murphy told Corey Brock of The Athletic last month.
The 10 mph velocity difference from the fastball makes a big difference, particularly with the 6-foot-6 pitcher's release point making it look to hitters like the ball is jumping on them. According to Statcast, Gilbert is in the 100th percentile for extension this season (and he's no lower than 99th over the last three). That helps his otherwise pedestrian fastball — 68th percentile velo, 2nd percentile spin — to play up and has him in the 84th percentile for strikeout rate.
The slider has always been more of a show-me pitch for him, but it will be a long afternoon for the Cubs if he can get the knuckle-curve working. He tinkered with it this spring to get out front with it and create more depth, but he's also throwing it a little harder. I'm not sure whether that's intentional or not, but the slider has also ticked up significantly from a velo perspective. The issue appears to be that he's getting a lot less sweep with the slider (-3.3 inches over last year and WAY below average), so the shape may not be different enough to fool hitters.
Traditionally more of a reverse-split pitcher, Gilbert has absolutely destroyed right-handed hitters so far. We're only talking about two games and 17 batters, but a .199 wOBA vs. .352 for lefties is pretty stark. The question for this afternoon is whether this is the game where water finds its level or Gilbert unlocks something new with his breaking stuff to step up to ace-level performance.
We'll find out at 1:20pm CT on Marquee Sports Network and 670 The Score.
Let's Stro!

Tune in: https://t.co/Gs2hZXyTjH pic.twitter.com/CSAHaZ5AMD

— Chicago Cubs (@Cubs) April 12, 2023