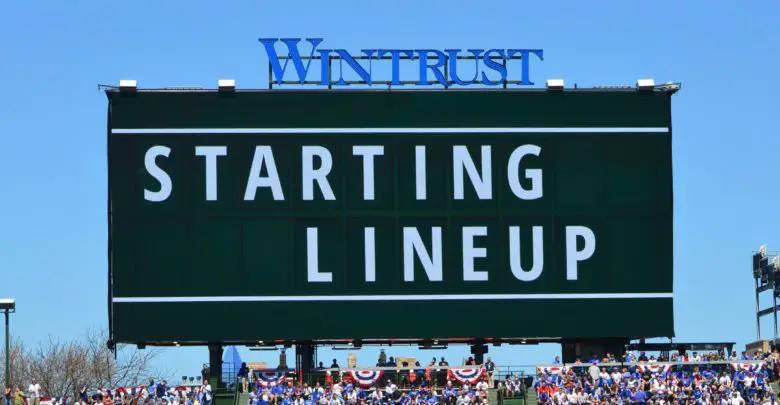 Chicago Cubs Lineup (4/17/23): Wisdom DH, Madrigal at 3B, Wesneski Starting
The Cubs have won two of three games in each of their last three series, the most recent of which came against the Dodgers in LA. Now they head to Oakland for what should be their easiest test of the season against the 3-13 A's. This might have felt like a trap series in previous seasons, but this Cubs team doesn't strike me as one that will take many games lightly.
Hayden Wesneski could really use a good start tonight after a pair of disappointing efforts to open the season. His last outing was particularly poor as he recorded only four outs while allowing seven runs on five hits and four walks with no strikeouts. Even though only two of those runs were earned, it was pretty clear the young righty was rattled from the start.
This will be a great test of Wesneski's mettle and could be just the kind of get-right game he needs to start pitching more like the emerging ace we saw in spring training.
It'll help if his offense can spot him a few early runs to take the pressure off. That starts with the familiar trio of Nico Hoerner at second, Dansby Swanson at short, and Ian Happ in left. Seiya Suzuki is in right, Trey Mancini is at first, Patrick Wisdom is the DH, and Cody Bellinger is in center. Yan Gomes handles the catching duties and Nick Madrigal is at third.
On the mound for Oakland is big lefty Kyle Muller, who came over as part of the trade with Atlanta headlined by catcher Sean Murphy. Muller was the Braves' top prospect at the time per MLB Pipeline, though he's had some walk issues that are keeping him from really tapping into that potential.
At 6-foot-7 and 250 pounds, he cuts an imposing figure and has the appearance of a guy who can really bring the heat. That isn't really the case, however, as Muller sits around 93 mph with the fastball. He doesn't really use all that length to his advantage, ranking in just the 45th percentile on extension, and he's below-average in most Statcast metrics.
The one area in which Muller is decidedly above-average is his fastball spin rate, which helps to make up for those other issues. His chase rate is also good thanks to the 60-grade slider he throws about a third of the time. He can be really effective as long as he's working up in the zone with the hard stuff, but neither his command nor his control are sharp enough to keep that location consistent.
Muller's curve and change make up a combined 15% of his pitches and could end up being really nice weapons over time. The curve and slider both light up the same spot on the heat map when they land in the zone, so maintaining a velo difference of 6-7 mph will help him.
Splits heavily favor right-handed batters, particularly when it comes to slugging, but Muller hasn't faced many lefties yet this year. This is a game in which the Cubs' patience should really help them out, as Muller does a pretty terrible job of getting first-pitch and swinging strikes. As good as the slider can be, he often pulls it out of the zone and hitters can just spit on it. He doesn't seem to know where his curve or change will end up, and his fastball has a mind of its own at times.
Put it all together and you've got a guy who's in the 9th percentile for whiff rate, which feels to me like a really good opponent for a team that makes a lot of contact. If they carry any momentum from SoCal to the Bay Area, the Cubs should be able to open this series on a high note.
First pitch is another late one, 8:40pm CT on Marquee and 670 The Score.
Here is tonight's #Cubs starting lineup!

Tune in: https://t.co/Gs2hZXyTjH pic.twitter.com/F3FtSkZaPm

— Chicago Cubs (@Cubs) April 17, 2023