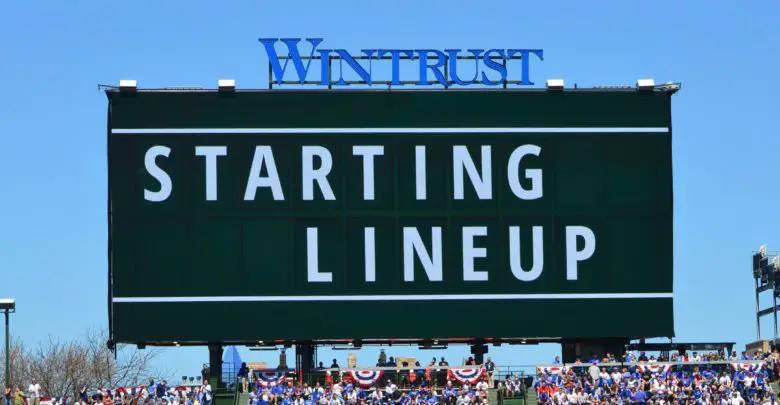 Chicago Cubs Lineup (4/18/23): Hosmer at 1B, Torrens DH, Stroman Starting
What will the Cubs do for an encore after last night's 20-hit blowoutlast night's 20-hit blowout? Patrick Wisdom's pair of homers highlight the effort, but the rout was fueled by 16 singles as seven players had multiple hits. It was exactly the kind of thing they need to keep doing against bad teams.
And guess what? They get two more games against an A's squad that features the worst pitching in the majors.
Tonight's lineup is really similar to last night's, just with Eric Hosmer playing first and Luis Torrens at DH. I'd list out the rest, but I'm pressed for time and you can see everything below.
Marcus Stroman has been nails so far this season and was only saddled with a loss the last time out because his offense couldn't match the two runs he allowed. The only mild issue with his performance to his point has been walks, which he's issued at least two of each time out. Another relatively clean performance in this one should put the Cubs in position to win.
Going for the A's is lefty Ken Waldichuk, who is making his forth start of the season and 11th in his career. The 25-year-old hasn't had what you'd call a strong start, posting a 10.20 ERA over 15 innings that includes 14 earned runs through his first two starts. The last time out was much better as he allowed season lows of five hits and three runs.
Waldichuk put up huge strikeout numbers as a member of the Yankees organization, but that hasn't translated at all to the bigs. He's missing the zone and surrendering homers with equally high frequency — both 4.20 per 9 innings — and just hasn't been able to find a groove. His 93 mph fastball isn't enough to overpower hitters and his anemic swinging-strike rate has allowed opponents to stay in the driver's seat during too many at-bats.
That means the change and slider that are supposed to have 60-grade potential simply can't be deployed as weapons. He doesn't appear to have a good feel for either at this point, as both have ugly heat maps with bright red inside the strike zone. His sweeper stays middle-in on righties and the change is too often over the other side of the plate. His four-seam is likewise bright red across the whole upper-middle zone inside a massive light blue zone that indicates he really doesn't know where it's going.
If the Cubs don't tee off on this dude, either they're just having an off night or he's stumbled into putting things together.
First pitch from Opossum Kingdom is at 8:40pm CT on Marquee and 670 The Score.
Here is tonight's #Cubs starting lineup behind @STR0!

Tune in: https://t.co/Gs2hZXzr9f pic.twitter.com/11J0VI6mmo

— Chicago Cubs (@Cubs) April 18, 2023