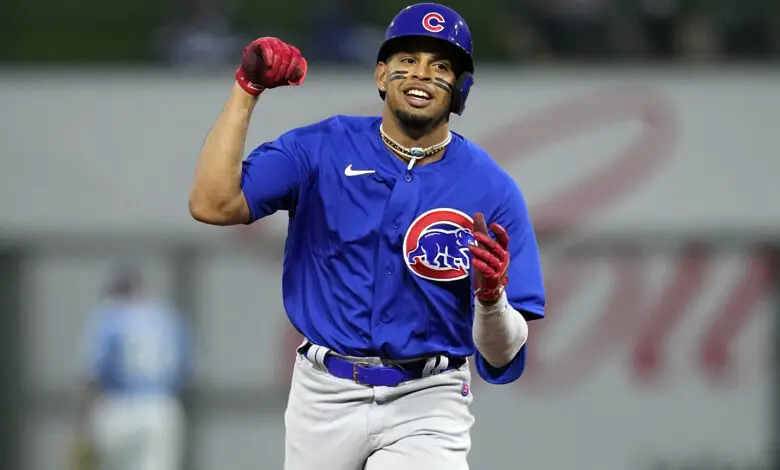 Carter Hawkins Explains 'Multivariable Conversation' Involving Christopher Morel, Matt Mervis
The Cubs are playing mostly good baseball behind the combination of pitching, defense, contact hitting, and a little more power than first expected. Therein lies a bit of a problem, at least for those of us who'd like to see some promotions, because the front office is reluctant to shake things up when they seem to have found a winning formula. As Patrick Mooney wrote for The Athletic, Jed Hoyer and Carter Hawkins aren't necessarily concerned with maximizing their roster just yet.
The Cubs are focused on maintaining depth at the MLB level and are "more worried about worst-case scenarios involving injuries right now than dreaming about best-case scenarios for prospects." Kind of like potentially recalling Miguel Amaya to replace Yan Gomes. That overall cautious approach is why they apparently have not seriously considered moving on from Eric Hosmer, a left-handed-batting first baseman/DH with a .674 OPS who is currently valued at -0.1 fWAR.
Lefty-batting Edwin Ríos has been the very definition of a replacement-level player over a mere 23 plate appearances, none of which have come as a position player. Despite three homers and 15 RBI, Trey Mancini is actually the Cubs' "worst" player at -0.3 fWAR. Nick Madrigal has more TOOTBLANs than steals and he also carries negative value according to FanGraphs.
Why, then, are Christopher Morel and Matt Mervis still toiling away at Triple-A Iowa?
"It's a multivariable conversation," Hawkins shared with Mooney. "You're taking into account the macro view of the major-league team and where there are opportunities to improve. And then you're looking at a particular minor-league player and where he is. There's the roster status piece, how many options he has, service time, the roster spots that we have, how he's playing. Will he get to play every day when he comes up? All those things start to come into effect, thinking through what's the best thing for the player and for our team. There's no easy answer to any of those because there's no actual formula to make those decisions.
"In my experience, players kind of hit you over the head with it over time. You start having the conversations. They get into the picture, and then you find yourself having that conversation every day. At some point, it becomes obvious. There are obviously some guys down in Triple A right now that are pretty hard to ignore. We're talking about that every day, what's best for them and what's best for the Cubs."
Hawkins, who acknowledged the ubiquitous Twitterverse clamoring for M&M while also claiming he doesn't use Twitter, is more or less echoing Hoyer's statements about Mervis from a little over a week ago. And though I understand the basic concept of not wanting to fix something that ain't broke, I continue to question the wisdom of choosing to put off fixing something that appears to be in danger of breaking. It's almost like the brass took their team to the shop and asked the mechanic which repairs they could postpone for the time being.
I just can't buy the idea that major-league depth is truly at such a premium that the Cubs should value safety over upside right now. Are you telling me Ríos provides more short-term stability than either Morel or Mervis? Hosmer is a great clubhouse guy and he's offered to be a mentor, but there's an opportunity cost to keeping him around as a below-average producer.
The only argument I'll listen to at this point is that regular playing time would be too difficult to come by if either of Mervis or Morel is promoted, let alone both. Barring another injury or what looks at this point like an unlikely parting of ways with Hosmer, there simply aren't enough plate appearances to go around. Mervis can't come up and occupy the same role as Ríos, nor do the Cubs want to replace Nelson Velázquez with Morel as the fourth outfielder.
In order to get both of those guys from Iowa to Chicago and provide them with enough playing time, the Cubs would probably have to move on from Ríos, Hosmer, and Madrigal. Doing so would clear room at first base, DH, and utility, though they might still need to carve out more from Mancini's playing time. That reality is more pressing for the front office because, as Hawkins noted, it's not nearly as binary as making a one-to-one player swap.
So the real question is where the front office is placing the line of demarcation on making these inevitable roster decisions. Do they have a particular date in mind, or is there perhaps a sliding scale based on time and winning percentage? Even knowing that information wouldn't convince me that they're doing the right thing by essentially choosing to handicap the roster in favor of mediocre depth, but at least there'd be more clarity as to the vision.
In the meantime, I'll just keep pointing out when Mervis does well and wait until his eventual promotion helps me sell more shirts.