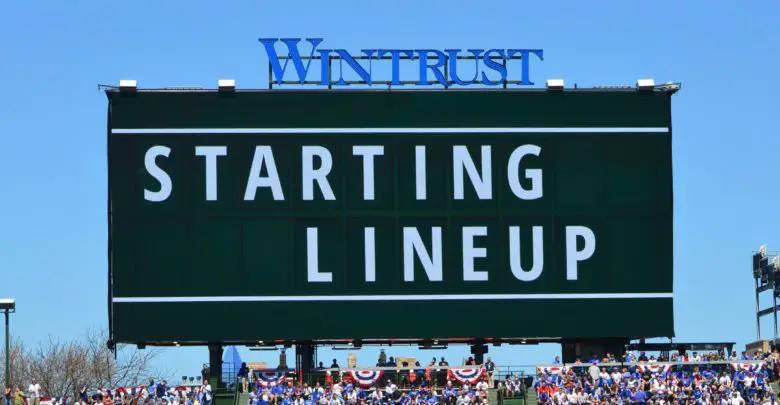 Chicago Cubs Lineup (5/3/23): Mancini at 1B, Hosmer DH, Stroman Starting
The Cubs dropped last night's game to even the series, but they can take heart in knowing Hayden Wesneski had another strong outing that saw him do something he's never done before. The problem, as we've seen a few times already this season, is that the offense simply couldn't push enough runs across. That needs to change tonight in order to guarantee at least a split.
Nico Hoerner will try to start a new on-base streak as he leads off at second, then Dansby Swanson is at short and Ian Happ is in left. Cody Bellinger is cleaning up in center, Seiya Suzuki is in right, and Trey Mancini is at first. Eric Hosmer is the DH, Patrick Wisdom is at third, and Tucker Barnhart is the catcher.
Does anyone care to explain why Mancini and Hosmer are in those respective positions and not the other way around? The only explanation I've ever heard that makes even a little sense is that Hosmer will eventually be displaced, so Mancini is getting more reps now. But if that's the case, it's just further proof that the Cubs are willfully hamstringing themselves.
Marcus Stroman has been excellent all season with the exception of a stinker against the Dodgers, so he's just the right person to have on the mound when you need a win. As long as he's keeping the ball on the ground for the incredible defense up the middle to handle, the Cubs will be in good shape.
Opposing them in this one is 26-year-old righty Jake Irvin, who will be making his MLB debut. He hasn't exactly been lighting the world on fire at Triple-A this season, as indicated by a 5.64 ERA and 4.43 BB/9 through five starts. He's averaging just over four innings per start as well, so it's hard to see him going deep.
Ranked as the No. 20 prospect in Washington's system by MLB Pipeline, Irvin missed all of the 2020 and '21 seasons due to the pandemic and Tommy John surgery. He's got a big frame at 6-foot-6 and about 230 pounds, and he's capable of touching upper 90s with the fastball. Irvin also has a curve that could be classified as a slider, so watch for that to get a good bit of use.
The control issues this season may be a result of tinkering with some pitches because he was lauded in scouting reports for a low walk rate. Of course, those reports can often go out the window when you're talking about a big league debut. Let's just hope the young man is a little rattled and the Cubs get to him early tonight.
First pitch from Nationals Park is at 6:05pm CT on Marquee and 670 The Score.
Here is tonight's #Cubs starting lineup!

Tune in: https://t.co/Gs2hZXyTjH pic.twitter.com/FnuhSIswQ0

— Chicago Cubs (@Cubs) May 3, 2023