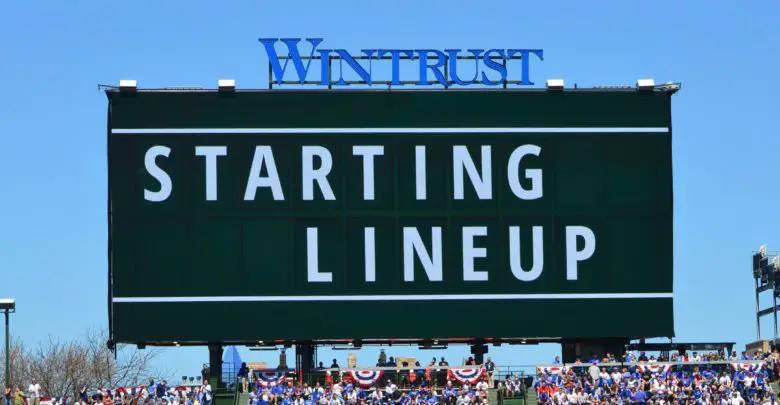 Chicago Cubs Lineup (5/7/23): Hosmer DH, Velázquez in RF, Wesneski Can Be Sweeper
After being swept by the Marlins in Miami last week, the Cubs have a chance to repay the favor Sunday afternoon at Wrigley. In order for that to happen, they'll need Hayden Wesneski to have his sweeper working like he did against the Nationals his last time out. The young righty also showed a good degree of pitchability, throwing his sinker/changeup combo more than ever.
Wesneski has been a far sight short of dominant, striking out just six batters across 15.1 innings over his last three starts, but he's only allowed five runs in that same time. He's also getting more efficient and has walked only two batters over his last four starts after walking six in his first two outings. Attacking the zone with a variety of pitches is a great recipe for success, but it sure would be nice to see him miss more bats.
The Cubs haven't been scoring many runs lately and it's taken very strong pitching efforts to carry them to victory, with some timely hitting and a mistake or two by Miami helping the cause. Putting up more than four and getting on their opponents early, especially with an overtaxed bullpen, is clearly the best option this afternoon.
David Ross is shaking things up just a wee bit, giving Seiya Suzuki a day off and bumping Cody Bellinger up to the cleanup spot again. The top three are unchanged, as usual. Eric Hosmer is batting fifth as the DH, which doesn't make a whole lot of sense to me on a number of levels. I don't get why he's DH'ing with Matt Mervis also in the lineup and I don't get why he's batting that high in the order, especially since the Cubs are facing a pitcher with even career splits who's absolutely killing lefty batters in the early going.
Nelson Velázquez is in right to spell Suzuki, Mervis bats seventh at first, Nick Madrigal is back at third, and Miguel Amaya is starting behind the dish. It was great to see Amaya pick up his first hit, which came on a chopper that left his bat at 67 mph. It was only fair for the BABIP gods to do him that favor after several previous batted balls at over 100 mph didn't fall safely.
So, remember that whole thing about jumping on the Marlins early? That's not going to be easy against reigning NL Cy Young winner Sandy Alcántara, though he's not exactly putting up a convincing argument for a repeat performance to this point. The 27-year-old righty carries a 5.09 ERA into this game as his strikeout and walk numbers have both moved in the wrong direction.
Never a huge strikeout guy, Alcántara works the zone with a very balanced pitch mix that sees him utilizing his sinker, change, four-seam, and slider with nearly equal proportions. To be more precise, those first three offerings are all between 25-27% of his repertoire with the slider coming in around 21% so far. Those percentages are subject to shift based on the matchup, as there's one game in which the slider was just 9%, while the change will sometimes get north of 30% against a lefty-heavy lineup.
With that in mind, I suspect we'll see a lot of offspeed offerings this afternoon. Though Alcántara's career platoon splits are very similar, he's got a very pronounced reverse split going now. Left-handed batters are hitting just .203 with a .275 wOBA while righties are at .288 and .339 with less than half as many strikeouts. Those numbers lead me to question the wisdom of batting three lefties in a row and having four of five from 3-7 in the lineup. Let's hope I'm wrong.
Alcántara's fastball and sinker will both sit 98 mph and the change is very firm at almost 92 mph, then the slider is around 91 mph. Simply put, Alcántara throws everything hard. He's not locating as well as he has in the past, however, which has led to more walks and hard contact. The Cubs should be able to take advantage of that if they see more of the same, but the potential is there for Alcántara to regain his ace form.
This game could go in any number of different directions based on which versions of the respective starters show up. Or maybe the game won't go in any direction at all, as storms are expected to roll through Chicago throughout the afternoon. First pitch is scheduled for 1:20pm CT on Marquee and 670 The Score.
Here is today's #Cubs starting lineup!

Tune in: https://t.co/Gs2hZXyTjH pic.twitter.com/IfmVcCavjG

— Chicago Cubs (@Cubs) May 7, 2023
Ed note: Happy birthday, mom!