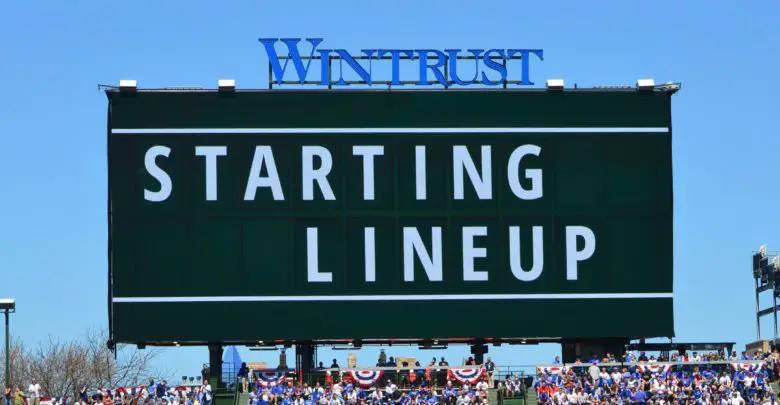 Chicago Cubs Lineup (5/8/23): Mancini DH, Mervis 1B, Stroman Starting
The Cubs dropped a tough one Sunday afternoon, but at least they took two of three from the Marlins to right the ship slightly after that awful road trip. Now they welcome the last-place Cardinals — God, that feels good to type — to Wrigley for the first time this season. That means Willson Contreras is back, though a perceived lack of preparation and/or chemistry issues with the pitching staff means he won't be catching.
Though I don't think WillCo will be booed lustily in his return, there are sure to be a fair number of catcalls after all the things he's said about basically cheating on the Cubs emotionally with the Cardinals in the second half of the season. At least he's the DH and won't get heckled by the bleacher crowd. It might actually be ideal for him to homer and then have his team get kicked in the teeth repeatedly. I'd like that.
Homers haven't been easy to come by against Marcus Stroman, unless you're the Dodgers, as the diminutive righty has a 60% grounder rate through seven starts. The Cards have the eighth-highest team groundball rate in MLB, but they're also ninth with 42 home runs. Paul Goldschmidt hit three of those in their much-needed win on Sunday and he has dominated Stroman in the past.
In 18 at-bats, Goldschmidt has a 1.579 OPS with three homers and two doubles. Current Cardinals have an aggregate .296 average and an .815 OPS, which seems really good until you realize most of that is from one player. Norman Avocado has a .524 OPS, for instance, and he's really struggling in general so far. If Stro can pitch around the big first baseman, he should have smooth sailing.
It'll help if the lineup can score some runs, starting with Nico Hoerner at second and Dansby Swanson at short. Ian Happ is in left, Cody Bellinger is in center, and Seiya Suzuki is in right. Trey Mancini is the DH, Matt Mervis is at first, Patrick Wisdom is at third, and Tucker Barnhart is catching. I'd also expect to see Christopher Morel, who was just called back up today, at some point.
Miles Mikolas is going for the Redbirds as he tries to figure out how to string some solid starts together. Always a big strike-thrower, he's getting more strikeouts than ever despite fewer whiffs than usual. He's also giving up a lot more line drives than usual and his soft contact is down as well. That's leading to a lot more batted balls landing safely, hence a .377 BABIP and 53 hits allowed in 37.1 innings.
Wait, is that right? Yeah, he's given up eight or more knocks in four separate starts already. He's more or less stifled this Cubs lineup over 126 total at-bats, though, with only Eric Hosmer (1.273) and Barnhart (.929) holding an OPS over .750 with enough of a sample to matter. With pretty even splits both this season and for his career, handedness shouldn't really matter in this one. I've got a feeling we're going to see Mash earn his nickname, and maybe we even get a Morel bomb.
First pitch is scheduled for 6:40pm CT on Marquee and 670 The Score, but the tarp is on the field as of this post being published.
Here's tonight's #Cubs starting lineup.

Tune in: https://t.co/Gs2hZXyTjH pic.twitter.com/lH7opqw0D5

— Chicago Cubs (@Cubs) May 8, 2023