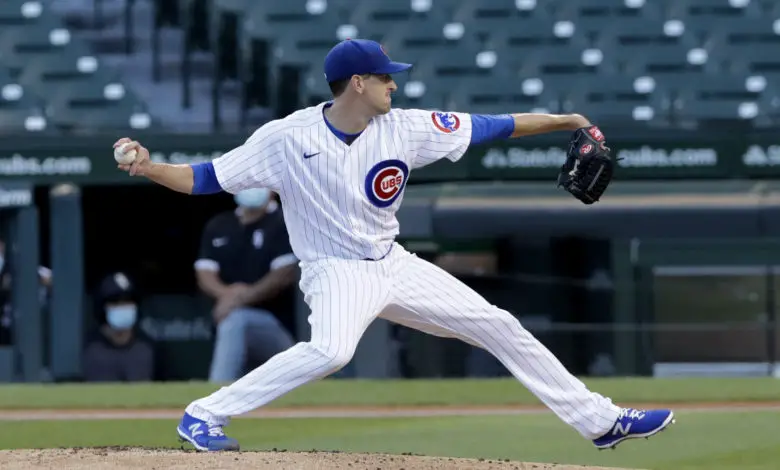 Quick Pitch: Ramifications of Bellinger Extension, Caissie Mashing for Tennessee, Hendricks Dealing at Iowa
Cody Bellinger has been much more than a pleasant surprise this year, and he's been so good that GM Carter Hawkins is thinking of a long-term commitment. If you are skeptical that Matt Mervis is the future at first base, extending Bellinger makes sense. Though there is no guarantee with prospects, the last thing the front office should do is block Pete Crow-Armstrong. He's posted video game numbers at Myrtle Beach, South Bend, and Tennessee since last year.
Bellinger's April was his best month as a hitter in four years and he's going to be a very valuable asset whether the Cubs keep him or trade him at the deadline. You root for the Cubs to contend for a playoff spot if an extension is the plan. The worst-case scenario is that Hawkins and Jed Hoyer keep the resurgent outfielder and then miss the playoffs. Crow-Armstrong will be ready next year, if not sooner. I suppose Bellinger could DH next year, too, which would mean passing on any attempt to sign Shohei Ohtani.
Bellinger would come at a fraction of Ohtani's anticipated half-a-billion-dollar cost, however, and the Cubs have some very good minor league pitchers in their pipeline. None, however, are the equivalent of Ohtani, who reportedly wants to play for the Dodgers. It might behoove Hawkins to therefore lock Bellinger up before he tests the market. Two in the hand is always better than one in the bush.
What would a Bellinger extension look like? I'd use Brandon Nimmo as a guide and adjust slightly down. That means it would probably take six years at $115-132 million to retain Bellinger if he continues at his current pace.
Midwest Farm Report
Owen Caissie has been tearing the cover off of the baseball at Tennessee. He has a .381 OBP with a .574 SLG, and his line drive rate is north of 30% so far. The 20-year-old right fielder has seven home runs and 23 RBI, and he's doing it all against players that are 2-3 years older. He smoked a 117 mph home run the other day.
OWEN CAISSIE WITH A 3-RUN BOMB!! #BestYearEver #NextStartsHere pic.twitter.com/Yjb1xNWLy7

— Tennessee Smokies (@smokiesbaseball) May 11, 2023
I mentioned yesterday that his strikeout rate is a little high and that that's his only flaw. That's a little misleading, however. Caissie struck out 26 times in Tennessee's first 12 games (56.5% K-rate) but reduced that to 19 punchouts in the following 14 games (27.9%). If that trend continues, he'll find his way to Iowa very soon. Caissie has the tools, forearms, and athleticism that almost remind you of Mike Trout. He's not there, and of course he probably never will be, but the potential does exist if he continues to lower that strikeout rate.
The thing I love about Caissie is his ability to quickly adjust to the competition. He's started slowly at every level before catching up in fewer than 20 games. That's absurd. Most minor leaguers need a year or more to adjust to higher levels. That's as much of a mental adjustment as a physical one, which means the young outfielder is a true student of the game. Our own Jordan Miller ranked Caissie as Chicago's eighth-best prospect a month ago, but I'd slot him at No. 3 between Kevin Alcántara and Brennen Davis.
Entering Thursday night's game, Caissie had a slash line of .299/.395/.598. That's good for a .993 OPS and includes the seven taters, six doubles, a triple, and a 13.2 BB% in 114 plate appearances. He ranks first in the Southern League with a .299 ISO and has eight multi-hit games. Cassie is currently outperforming Crow-Armstrong, which is no small accomplishment. Both are young and still ooze projection, so Cubs fans are going to enjoy several fun summers at Wrigley Field watching them play together.
Big League Chew
Kyle Hendricks made an appearance in Chicago last weekend to work with Tommy Hottovy on a mechanical flaw. According to Tommy Birch of The Des Moines Register, the two "overlaid videos of Hendricks during his first two starts with Iowa with video from when he was rolling in the big leagues with Chicago." Each quickly realized that Hendricks was moving too fast, which put him out of synch.
"I was never hitting my balance point," Hendricks said. "I was never in a strong position. So the timing of everything was just off one pitch to the next. I couldn't repeat my delivery and I had some misses that I was just so behind the ball because I wasn't getting extended. I wasn't out front of anything."
With the mechanical flaw corrected, The Professor was in vintage form in his Tuesday night start against Toldeo. He tossed five shutout innings with four strikeouts in Iowa's 6-1 win. Hendricks didn't walk anybody and surrendered just two hits. He retired the final eight batters before reaching his pitch count and threw 41 of 61 pitches for strikes.
Kyle Hendricks with the @IowaCubs last night:

5 IP
2 H
0 BB
4 K pic.twitter.com/KHrq87zQfi

— Marquee Sports Network (@WatchMarquee) May 10, 2023
The Cubs will welcome Hendricks back soon and, in addition to strengthening the rotation, the veteran right-hander will be a positive influence on Hayden Wesneski. Hendricks is in the final year of his contract and could be passing the torch to Wesneski if he's not extended. Then again, Drew Smyly and Marcus Stroman could be moved at the deadline, so maybe there's room to keep Hendricks beyond this year. The 33-year-old would like nothing more.
"I would absolutely love that," said the 2016 ERA champion. "I need to pitch at that level again, and I need to produce and perform to be a part of this winning culture and [the] winning that's coming. So I'm focusing on myself to do as much as I can to put myself in that position. From there, that's the business side of it. But I do want to pitch as long as I can."