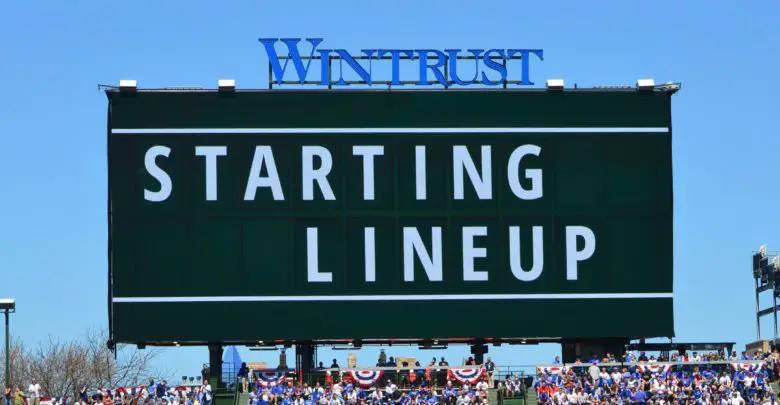 Chicago Cubs Lineup (5/19/23): Hoerner Returns, Madrigal at 3B, Stroman Starting
The Cubs, losers of five straight after being swept by the defending World Series champion Astros, now open their series in Philly against the NL's representatives in the Fall Classic. The Phillies aren't really playing like they will earn a trip back, but neither were the Astros just a few games ago. Besides, Bryce Harper is back now.
Marcus Stroman is back on the bump for the first time since an abbreviated effort in Minnesota that saw him give up six runs over just 2.2 innings. It was his second stinker of the season and he's now lost four straight decisions after opening at 2-0, though he's pitched really well for the most part. Stroman had trouble with his mechanics in that last start and wasn't able to adjust on the fly, so everything piled up in a hurry.
That's a little worrisome given the nature of the game, especially with the pitch clock in effect, plus it's impossible to reproduce game situations between starts. He should be fine as long as everything is smooth, but having to wait until the inning is over to make adjustments is less than ideal.
You know what else is less than ideal? Getting beat because you can't score enough runs. The Cubs really need to hang some crooked numbers and keep their collective foot on the gas rather than being satisfied with a little early offense.
It helps that Nico Hoerner is back at second base and in the leadoff spot, solidifying the top of the order once again. Dansby Swanson is at short, Ian Happ is in left, and Seiya Suzuki is in right. Patrick Wisdom is the DH, Trey Mancini is at first, Yan Gomes is catching, Christopher Morel is in center, and Nick Madrigal is at third.
Madrigal started out fairly well, posting a 123 wRC+ with a .345 average and 3.2% strikeout rate through April 19 (31 PAs). Since then, however, he's hitting .190 with an 11.7% K-rate and exactly zero walks over 60 PAs. That's good for a 23 wRC+ that even Norman Avocado can't play third well enough to overcome. Seems like someone who could benefit from some time in Iowa.
Ranger Suárez will be on the hill for the Phils to make just his second big league start of the season after missing several weeks with a left elbow strain. He was limited in his first outing and probably won't go deep tonight unless he's incredibly efficient, so it might be a good idea for the Cubs to try to jump on him and force Philly to burn the bullpen.
It's hard to know for sure how Suárez will attack tonight because the sample is so small, but he threw his sinker a lot less than usual against the Rockies. Normally his bread and butter at around 40%, that pitch was thrown half as often. The changeup made up nearly a third of his offerings and the cutter was used about 14% of the time. Suárez doesn't vary his velocity all that much, with his cutter (88.9 mph) and slider (86.6 mph) not far from his fastball (93.2 mph).
The change is about 10 ticks below the heater and the curve is way down at 75 mph, though it's not a big pitch for him. Unlike many of the pitchers they've faced lately, Suárez is not split-neutral in the least. Right-handed batters are markedly better across the board and only three of the 342 lefty batters he's faced have hit homers. He can miss a bat here and there but the real strength of his game is keeping the ball on the ground.
The Cubs need to string some hits together and get runners moving to avoid double-plays and make the most of what doesn't figure to be a slugfest on their part. First pitch is at 6:05pm CT on Marquee and 670 The Score.
Here is tonight's #Cubs starting lineup.

Tune in: https://t.co/Gs2hZXyTjH pic.twitter.com/DzuQdHtXbC

— Chicago Cubs (@Cubs) May 19, 2023