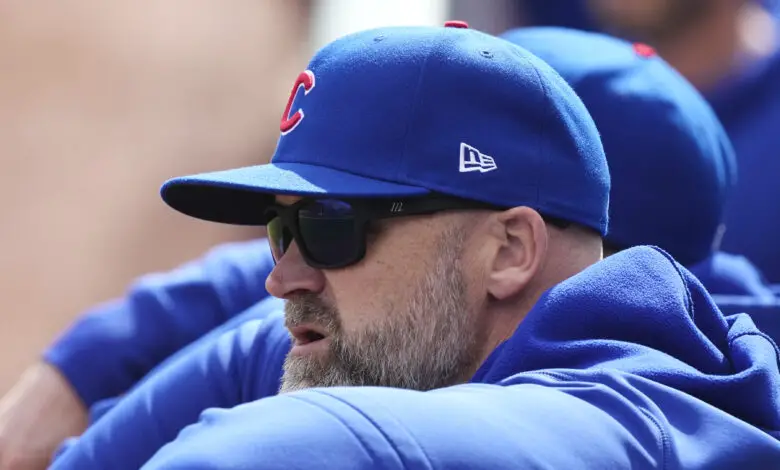 The Rundown: Cubs Sinking Fast, Team Issues Embarrassing Billy Williams Bobbleheads, Liam Hendriks Returns Today
"It's so tough to get up. It's so tough." – The Cars, Moving in Stereo
The Cubs have gone from playoff contender to draft lottery hopefuls in their last month of baseball. Chicago is in last place in a very weak division and now owns the worst record in the National League thanks to playing uninspiring baseball and looking like a bunch of patsies as the Reds rolled over them.
The Rays are probably licking their chops as they prepare to help the Cubs close out a disappointing 2-4 homestand. Sounds like a perfect time to host the best team in baseball.
Cubs News & Notes
Odds & Sods
Don't miss any holiday functions to watch the Cubs or White Sox today, okay?
Memorial Day in Chicago: The Sox and Cubs have a combined record of 44-63. Good for 4th and 5th place, respectively.

According to Elias, it's the 8th worst combined win pct (.411) on Memorial Day (since 1901). And first time since 2014, they've both been in 4th place or worse.

— Jesse Rogers (@JesseRogersESPN) May 28, 2023
Central Intelligence
Climbing the Ladder
"Hey, I've got nothing to do today but smile." – Simon & Garfunkel, The Only Living Boy in New York
Patrick Wisdom had two home runs and five RBI in yesterday's loss. The Cubs got bupkis from the rest of the lineup. At least Michael Fulmer was unscored upon in an inning of mop-up work.
I was originally against firing him, but it's fair to wonder if Ross is the right person to be managing this team. His club is just rolling over and dying lately. By the way, the Cubs struck out 29 times in the three-game set against the Reds, and they're 11-24 (.314) in their last 35 games.
Please read the link above to Sean Holland's recap of yesterday's game. He sums things up much better than I could.
Games Played: 52
Record: 22-30 (.423)
Total Plate Appearances: 2,017
Total Strikeouts: 477
Strikeout Rate: 23.65%
Team Batting Average: .257
Runs Scored: 242
Runs Allowed: 238
Chances of Making the Playoffs: 19.9%, < 0.1% to win the World Series
How About That!
Cancer-free reliever Liam Hendriks will return to the White Sox today and that's the greatest news of the day.
A's speedster Esteury Ruiz is on a pace to steal 80 bases, but he only swiped five bags in Oakland's first 24 games. He's on a pace for 118 over his last 30 games.
Royals left fielder Edward Olivares hit a home run that smoked a hole into the scoreboard at Kauffman Stadium.
The Dodgers, Padres, Mets, and Yankees are the frontrunners in the Shohei Ohtani sweepstakes. The Giants, Mariners, and Cubs are listed as secondary options.
An umpire mocked the Marlins for challenging a call but then overturned the play after a review. He said, "They've got their heads up their asses" into a live microphone.
Sunday's Three Stars
Isaac Paredes – The Rays third baseman had a double, a home run, and five RBI as Tampa Bay downed the Dodgers 11-10. Incidentally, the Rays stole five bases in the game and lead the majors with 72. Yan Gomes and Tucker Barnhart will have their hands full today.
Astros Batters – They hit seven home runs on Sunday, including two by Yordan Álvarez, and one each by José Altuve, José Abreu, Jeremy Peña, Jake Meyers, and Chas McCormick. Abreu sprinted around the bases in celebration of his first home run with the team.
Ryan McMahon – The Rockies' third baseman had three hits, including a home run, and five RBI as Colorado sunk the Cubs to the bottom of the National League with an 11-10 win over the Mets.
Extra Innings
Should we start looking ahead to the 2024 draft? The Cubs have a 13.2% chance of earning the first overall pick as of this morning. They are also a lock to have a top-10 pick if they continue to play at this pace.
Sunday May 28th, 2023

The Chicago Cubs are the worst team in the National League. pic.twitter.com/QU2UY6cajP

— Chief Cub (@ChiefCub) May 28, 2023
Monday Morning Six-Pack
They Said It
"There's still a lot of potential to be better in a lot of areas. We had some success early on and then we kind of hit a little bit of a rut this last month. We haven't really gotten on any kind of a roll. The team, as a whole, works really hard and brings the competitiveness, their work ethic, and their intensity every single day. You know [there are] moments we could have been better out of the bullpen. [There are] moments, as of late, where our offense hasn't really started to roll. We've [got] some good starting pitching, but we definitely have our blips." – Ross
"We're not putting all three phases of the game together at the same time. It was an ugly weekend for us. The Reds came in and beat us up." – Drew Smyly
Monday Walk-Up Song
Few covers are as good as the original but this is every bit as fun as the version by Little Willie John.