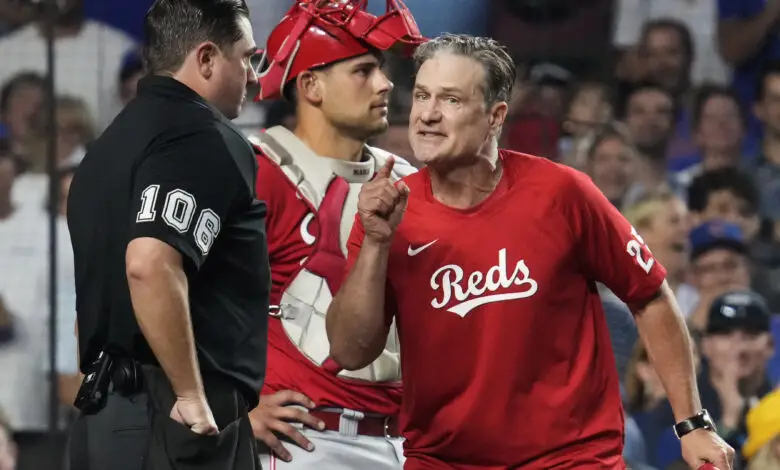 The Rundown: Cubs Rolling as Braves Come to Town, Suzuki Pushed to Platoon Role, Chafin Endears Himself to Brewers Fans
"We're jammin', and I hope this jam is gonna last." – Bob Marley & The Wailers, Jammin'
Bring on the Braves!
The Cubs scored more runs via walks than hits in last night's 5-3 win over the Reds, but they took three of four in the series and showed Cincinnati that the wrong team entered play yesterday in first place. The Cubs are now 2.5 games behind the Brewers for the NL Central lead and two games behind the fading Reds for the final Wild Card spot. Good morning Chicago, and welcome to Wrigley Field's wonderful playoff-like atmosphere.
The Braves are going to be a big test, but I like the pitching matchups this weekend. The weather could be a factor, too, though it shouldn't stand in the way of two turbo-charged offenses. Atlanta and Chicago have been among the hottest teams in baseball since mid-June, and the collision of the two juggernauts couldn't come at a better time. The Cubs have a chance to prove to the rest of baseball whether they are contenders or pretenders. It's also fun rooting for a team that is leading with its pride but is still considered an underdog among baseball's elite.
It won't happen, but I dreamt Cade Horton and Jordan Wicks would be recalled for this series. As it is, David Ross has yet to announce his starter for Saturday's tilt. Marcus Stroman is out, making Hayden Wesneski the likely choice, though I'd love to see Horton or Wicks tame the Braves. We'll have to wait until next year for that to come to fruition. The Cubs are notoriously deliberate in controlling the matriculation process, at least compared to teams like the Reds and Braves.
That said, Chicago's veteran core is the reason why the postseason is well within reach. The addition of Jeimer Candelario adds a lot of length to the lineup and the Cubs are now averaging 7.8 runs per game since the All-Star break.
The fortunes of Chicago and Cincinnati reversed course this series and when all is said and done, Reds manager David Bell is going to be held accountable for allowing Ben Lively to take a 13-run bullet in Tuesday night's 20-9 loss. He lost his team that night and gave the Cubs a big leg up in the pennant race by doing so. Getting purposely tossed last night probably didn't earn him the respect from the players he was hoping for.
Kyle Hendricks takes the mound this afternoon against Max Fried, and Justin Steele will start Sunday against Charlie Morton. The Cubs won't face Spencer Strider this weekend, which is another reason to celebrate. Let's get this party started, shall we?
Cubs News & Notes
Odds & Sods
Evan lays down the smack to Reds fans and we're all here for every minute of it.
How'd that work out? https://t.co/ekYc1DzqGS

— Evan Altman (@DEvanAltman) August 4, 2023
Central Intelligence
Climbing the Ladder
"I'm a shooting star leaping through the sky like a tiger, defying the laws of gravity." – Queen, Don't Stop Me Now
I take requests, or so it might seem.
The North Siders scored 46 runs in the series, which tied a modern-era record for a four-game series (also achieved against Cincinnati on July 27-29, 1961). It is the most runs in a four-game series for the franchise since plating 52 against the Pirates from Aug. 16-19, 1890, per team historian Ed Hartig.
The Cubs are just two games behind the Brewers in the loss column and the two teams will face each other seven more times this season, including a three-game set in Milwaukee to close the 2023 regular season schedule.
Adbert Alzolay earned a dominant four-out save and I'm coming around to his ascension to closer. I'd prefer he strictly works the final inning, however. I know he has a little more stamina because he used to start, but he may take a hit to his confidence if he fails to clean up messes left by his fellow relievers. Mark Leiter Jr. looked unhittable last night. He struck out four of the five batters he faced, leaving Cincinnati hitters bewildered at the plate.
Chicago's relievers had nine strikeouts in four innings of work, which will usually hold any lead.
Games Played: 109
Record: 56-53 (.514)
Total Plate Appearances: 4,175
Total Strikeouts: 977
Strikeout Rate: 23.40%
Team Batting Average: .258
Runs Scored: 560
Runs Allowed: 481
Chances of Making the Playoffs: 55.5%, 4.8% to win the World Series
How About That!
Shohei Ohtani hit his 40th home run, but the Angels suffered a bone-crushing loss to the Mariners.
The Braves activated Fried this morning for today's start against the Cubs.
MLB dropped the new logo and announced renovations for Rickwood Field in Birmingham. The Cardinals and Giants will play a game honoring the Negro Leagues at the iconic field next season.
The NL Central remains quite competitive and could be represented by two postseason teams.
Teams that decided to become sellers will have a tough time competing for free agents this winter. The arrow points up for Hoyer, and down for Steve Cohen.
Max Scherzer made his debut with the Rangers and looked awfully tough.
The Mets aren't going to commit significant resources to build around Pete Alonso next season. One would assume that includes Ohtani.
Thursday's Three Stars
Sal Frelick – The Milwaukee rookie was 2-for-5 with a three-run homer and five RBI in the Brewers' 14-1 win over the Pirates.
Brady Singer – The Royals starter tossed eight innings of three-hit, shutout baseball in a 9-2 win over the hapless Mets.
Austin Hays – The Orioles outfielder enjoyed a 4-for-5 evening in Baltimore's 6-1 win over the Blue Jays.
Extra Innings
This is pretty cool.
"So many sights to be seen on every side of the city, inside every neighborhood. Our shared history is what should connect us."

The Cubs joined @6figga_dilla on a neighborhood tour to see why everything dope about America comes from Chicago. pic.twitter.com/3vHmVAF3wP

— Chicago Cubs (@Cubs) August 3, 2023
Friday Morning Six-Pack
They Said It
"Right now, you got to put your ego aside, We're not trying to fit in everybody's at-bats and get everybody at-bats. We're trying to win every single game at all costs." – Ross
"Every advantage we can take advantage of, we're going to try it, whether that's information or playing time or day-after-night rest or maximizing the guys that are swinging the bat well. It's just juggling that as best as I possibly can, moving guys in and out, and giving guys rest. There's a lot of underlying things that are really beneficial, too." – Ross
Friday Walk-Up Song
I'm going to see Salt-n-Pepa with Shaggy at Wisconsin State Fair tonight, but this song is also appropriate given Rossy's comments.